First responders given priority adoption access to Greyhounds as Pets
MEDIA RELEASE
South Australian first responders will be given first priority to adopt greyhounds as pets through a new partnership between emergency services unions and peak greyhound racing bodies.
Dubbed 'Greyhounds as Mates', the initiative will provide South Australia's police and firefighter union members with immediate access to Greyhound Racing SA's leading Greyhounds as Pets (GAP SA) program with adoption fees taken care of, quickly and effectively matching them with a loyal new companion at no cost.
Alongside priority access and waiving of adoption fees for dogs which are already desexed, vaccinated and microchipped, union members will receive three months of quality dry dog food and veterinary support to allow for the best possible start to their new mateship.
It is hoped that the partnership between Greyhound Racing SA (GRSA), Greyhounds Australasia (GA) and the Police Association of South Australia (PASA) as well as the United Firefighters Union of South Australia (UFUSA), will provide tangible benefits for both emergency service workers and greyhounds in need of a forever home.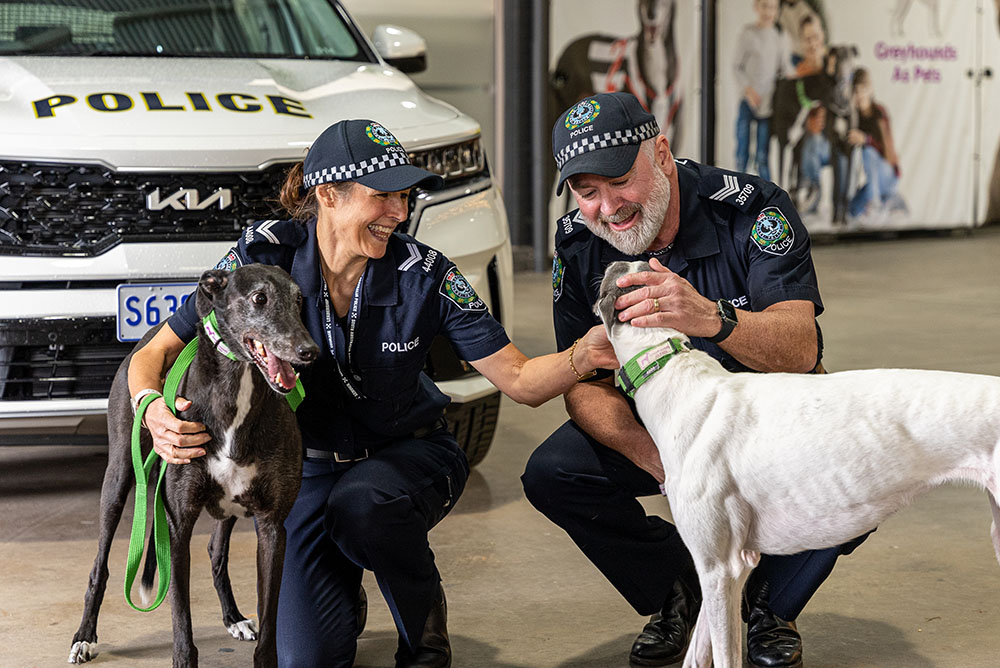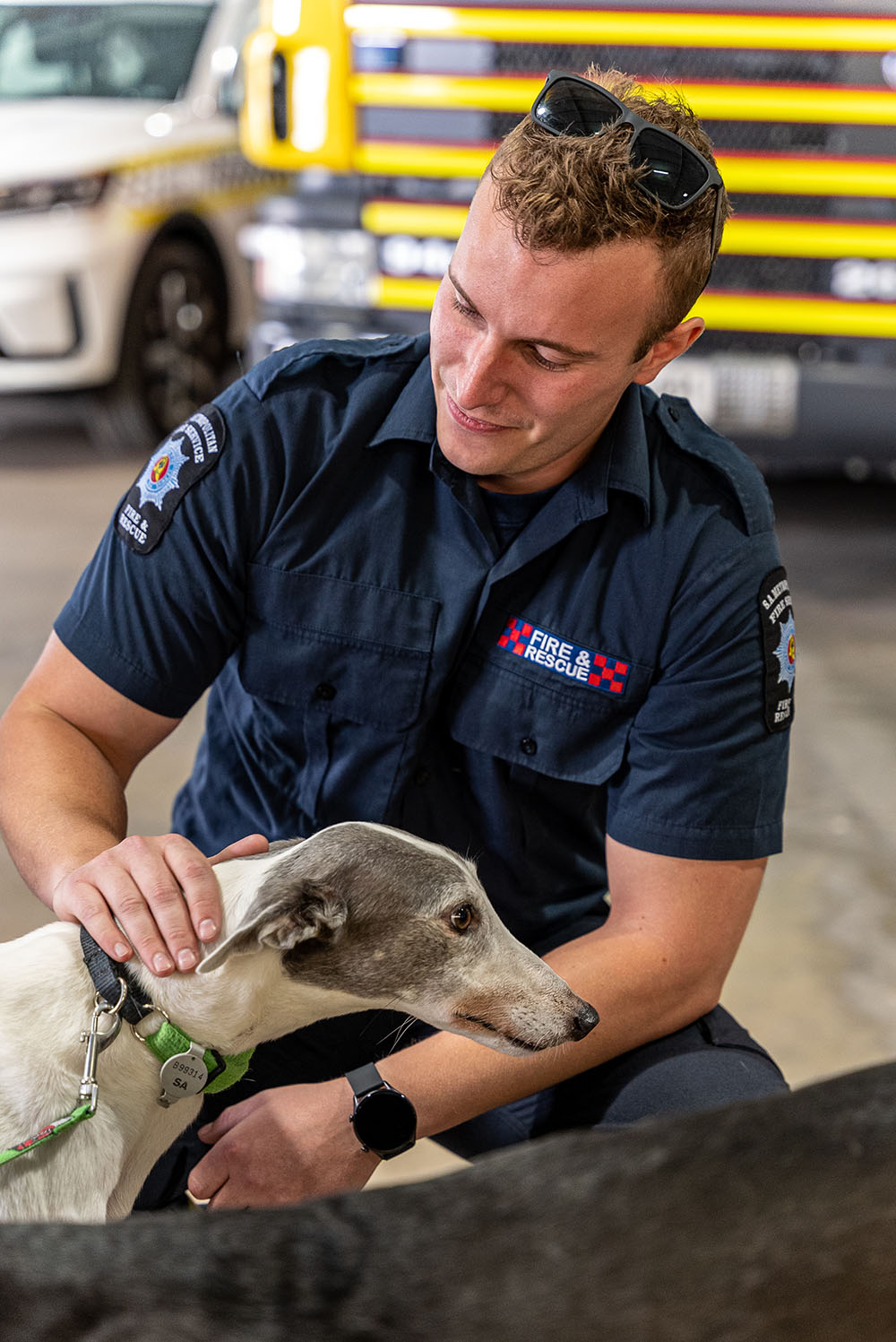 Quotes attributable to GA Chairman Rob Vellar:
"As a former police officer, I have seen firsthand the stressful situations our emergency service workers experience every day.
"Greyhounds are loyal, loving and low maintenance animals, making them ideal companions and a great source of comfort for these heroes.
"We have rolled out a similar program in New South Wales to great success, so I am delighted that it has been so enthusiastically taken up by the South Australian unions."
 
Quotes attributable to GRSA CEO Bodelle Francis:
"Our Greyhounds as Pets program is one of the most successful in the nation because we understand the importance of matching the right dog with the right home.
"Last year we rehomed a record number of greyhounds, and we are always looking for ways to spread the word about these calm, gentle and affectionate animals.
"It is a privilege to be able to share these benefits with South Australian first responders, ensuring more retired and non-racing greyhounds find a loving home and our dedicated emergency workers receive a loyal and caring companion."
 
Quotes attributable to PASA President Mark Carroll:
"Police officers often find themselves in a state of advanced "hypervigilance" owing to the nature of their job.
"Extensive research has highlighted not only the mental and physical toll of hypervigilance, but also how difficult it is for cops to combat this physiological phenomenon when they're off-duty.
"These beautiful greyhounds will not only provide loyal companionship for cops and their families, they will also likely assist officers to switch off from the perpetual strain of hypervigilance.
"So, apart from being beautiful pets in need of a home, they could actually save a police officer's mental and physical health.
"All of this is only possible because of the wonderful work of Greyhound Racing SA and Greyhounds Australia, in tandem with the Police Association and the United Firefighters Union.
 "The association is proud to be involved in this partnership. We are confident many of our members will benefit from this program."
 
Quotes attributable to UFUSA Secretary Max Adlam:
"We're extremely proud to be involved in this program. Many firefighters are animal lovers, and I'm sure some of our members will jump at the chance to give these incredible dogs a new home.
"We know that first responders have some of the most difficult jobs in society – and the last few years have been particularly challenging.
"This program gives firefighters a chance to experience the loyalty and companionship of a greyhound pet, while simultaneously providing the dog with a home and a caring owner. It's a win-win situation.
"And a just reward for our dedicated members."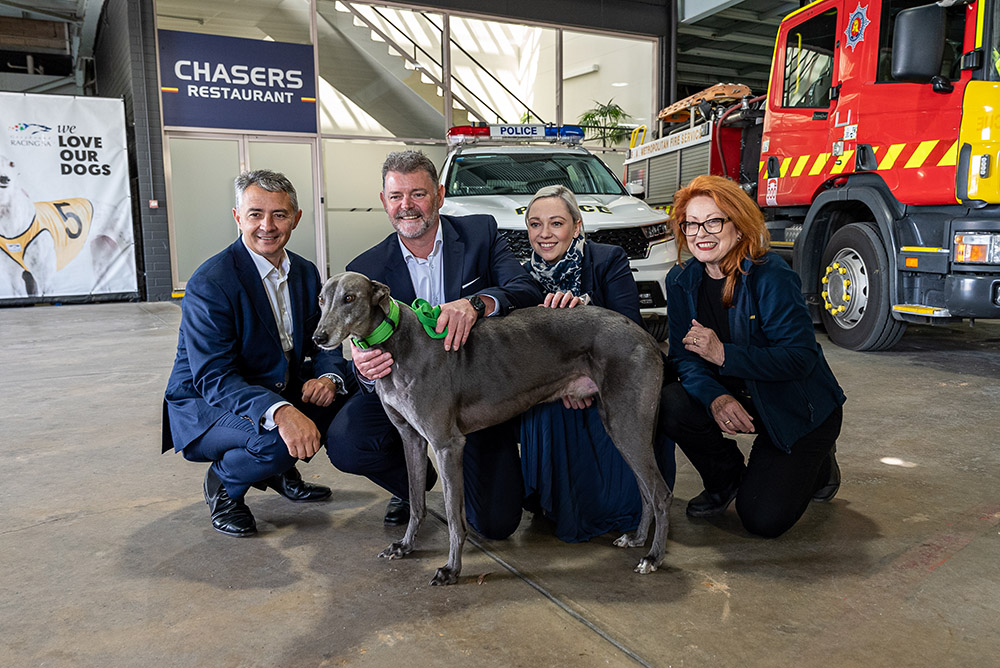 Media enquiries:            
Alexandra Green, Michels Warren PR
0418 608 038 [email protected]

Nick Damiani, PASA
0400 377 299 [email protected]





To view all the greyhounds available for adoption please click here.